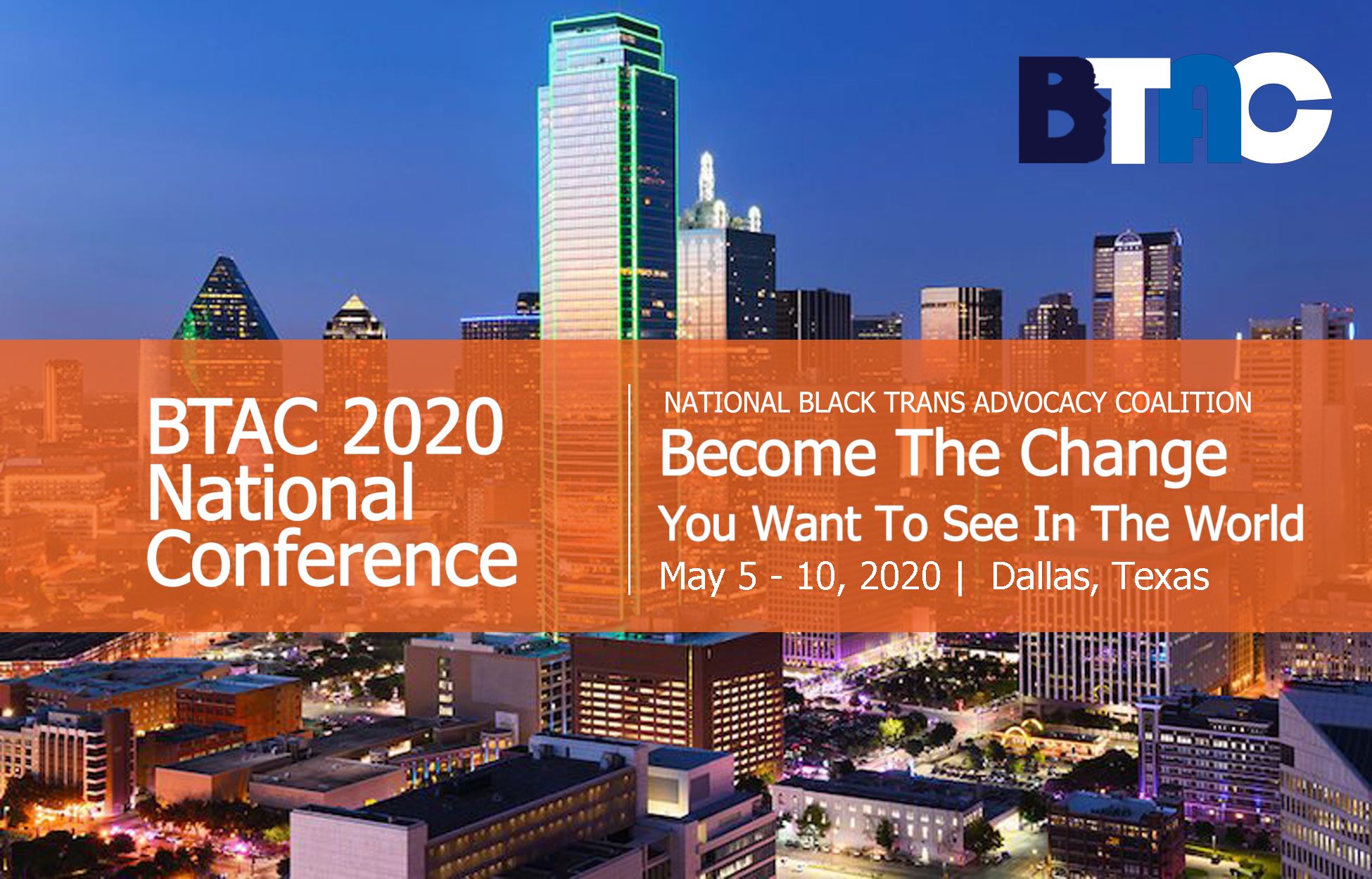 Call for Mission Driven Workshop Proposals
We are happy to announce our invitation to submit workshop proposals for the 9th Annual National Black Trans Advocacy Conference!
The Black Trans Advocacy Conference provides thought-provoking and stimulating forum opportunities for educators of all disciplines and experience levels to share practical ideas and best practices that advance black trans equality and that are particularly focused on ending the disparities faced by transgender people in health, housing, employment and education.  "If you want to learn or impact our Black Trans Community, you need to be at events where we gather and talk about our issues" (Monica Roberts).
The National Black Trans Advocacy Coalition mission is to help improve the black trans human experience by overcoming violence and injustice in the world through the power, value and love of all people.   
Our Motto: "Become The Change You Want To See In The World"
Help us to achieve our mission with your workshop proposal.
BTAC 2020 Conference Tracks Include:
Transgender Empowerment Track 
Family & Community Empowerment Track
Advocacy & Equality Track 
Leadership Development
Professional Development
BTAC workshop proposals should cover topics in any of the following areas: 
Identity Development
Human Identity
Spiritual Identity
Race & Cultural Identity
Gender Identity
Sexual Identity
Holistic Wellness
Physical Wellness
Emotional Wellness
Social Wellness
Spiritual Wellness
Intellectual Wellness
Occupational Wellness
Financial Wellness
Environmental Wellness
Civic Engagement 
Health Equality
Safety
Employment Equality
Education Equality
Housing Equality
Race & Gender Equality
Law & Public Policy
Media Advocacy
Lobbying
Voter Engagement
Social Advocate Training
Community Racial, Gender & Sexual Identity Education
Community Organizing
Community Service
Philanthropy
Fundraising
Coalition Building
Mentor Training
Structured Identity based focused Mentoring
Structured Wellness based focused Mentoring
Health Advocate Training
Trans Health Education
Trans Health Navigation
Trans Health Care Legal & Public Policy Activism
Anti Trans Violence Leadership Training
Anti Violence Education
Anti Violence Legal & Public Policy Activism
Non-Profit Leaders
Executive Management
Program Management
Social Entrepreneurship
Transgender Cultural Competency
Health Care Service Providers
Housing Service Providers 
Employer Human Resource
Faith Community
Law Enforcement
BTAC Audience: We are preparing to provide free education and empowerment opportunities for 300 trans and gender nonconforming individuals as well as family, friends and allies. Target Audience: Trans*, Transmen, Transwomen, Spouses/Partners, Seniors 55+.
Course Offering: Approved workshops will be added online allowing up to 40 attendees to register for your course and the ability to connect with the instructor after the course has ended. General Workshop sessions are offered Wednesday – Friday 9AM -4PM.
Session Format: Approved workshop will be offered in 45 and 60 minute increments of course education.
Seating: Classroom style seating with table, chairs, projector and sound is prepared for professional development courses and/or available by request. Theater style seating for all courses either traditional or in a circle.
A/V: Audio/Video projector and screens will be provided as needed.
Evaluation: Attendees should be provided time to complete a workshop evaluation at the end of each session. Presenters will be provided the evaluations electronically after the conference.
Accommodations: Presenters are responsible for their own, lodging and travel arrangements.
Conference Registration: BTAC conference registration is free. Each presenter must be registered online on or before the March 1 deadline.
Deadline: Due to the limitations in space, proposals submitted prior to the deadline will be scheduled first. If you have missed the deadline, late proposals are accepted and will be considered as space is available. The deadline to submit presentation proposals is February 1.
Help Bring Our Conference Theme To Life!
"BTAC Vision In Focus – Fulfilling The Law of Love"
Select your track and Submit Your Workshop Proposal Details